Start Your Path To Better Hearing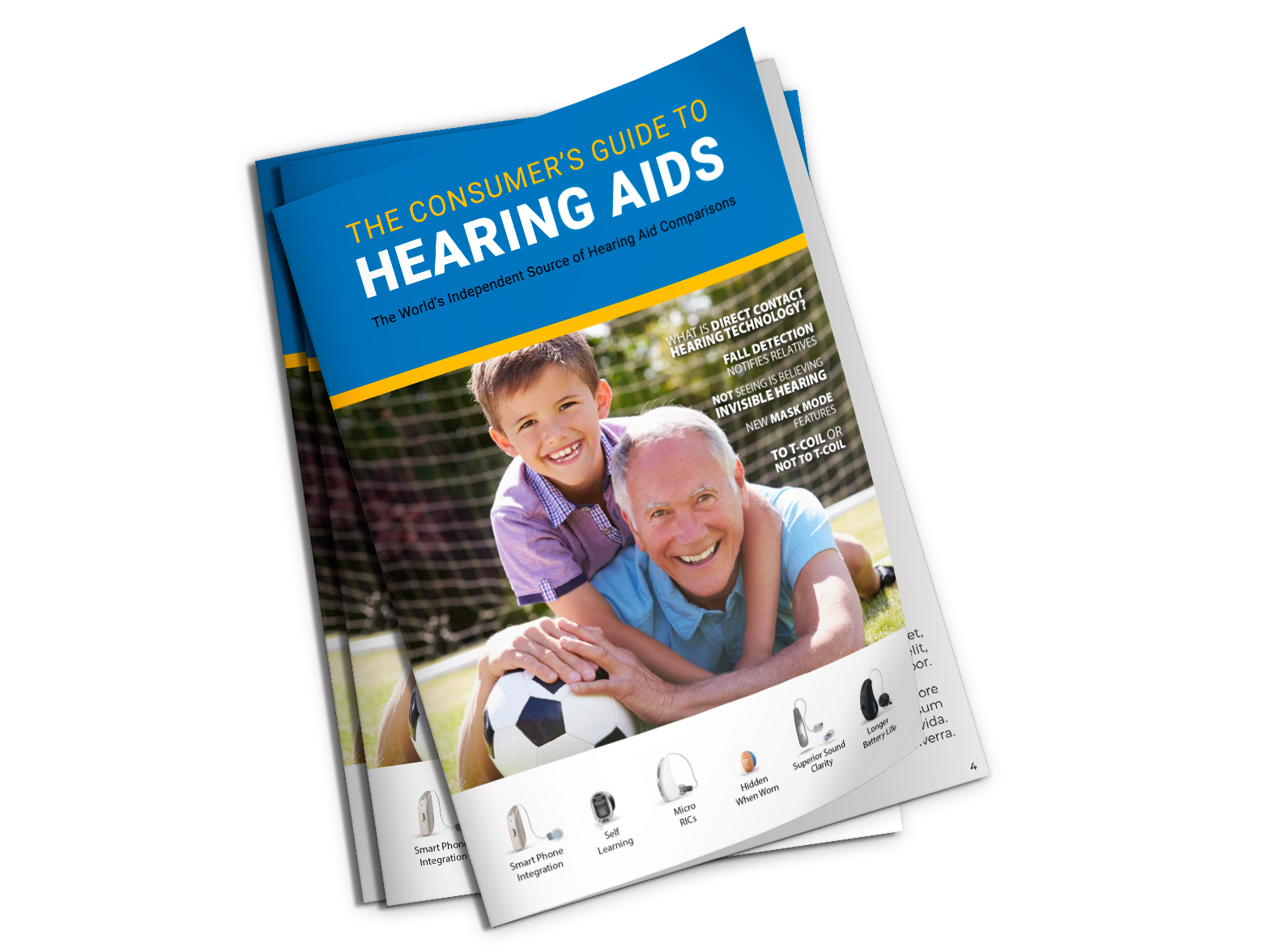 The Consumer's Guide To Hearing Aids
Make informed decisions when it comes to your next hearing device!
Having Trouble With Your Hearing? Take Our Quick 5 Minute Hearing Survey.
Custom Made For You By ReSound
Think of everything you want in hearing aids combined with all you love about earbuds. It's here. The advanced hearing technology from ReSound carefully crafted in a rechargeable earbud design.
Rechargeable Customs by ReSound are ideal if you have mild to severe hearing loss and want a solution that perfectly fits your ears, life and style.
Features and benefits include:
All-day comfort
Weatherproof and sweatproof
Rechargeability with a customized charger
Natural sound experience
Automatic sound adjustments for improved listening even in noisy situations
Direct streaming of music, calls and more from smartphones
Hands-free phone and FaceTime calls for iPhone® and iPad®*
Charging made easy
Customs by ReSound provide all the power you need – up to 24 hours on one charge. The specially created inserts inside the charger match your custom-made hearing aids for a seamless recharge. Simply place your hearing aids in your charger, then leave them to power up while you sleep or rest.
With Customs by ReSound, you'll experience a natural sound, custom made for you in a style that doesn't look like a hearing aid at all.
*Customs by ReSound hands-free calls are compatible with iPhone 11 or later, iPad Pro 12.9-inch (5th generation), iPad Pro 11-inch (3rd generation), iPad Air (4th generation), and iPad mini (6th generation), with software updates iOS 15.3 and iPadOS 15.3 or later.
Hear Like No Other
Just like a fingerprint, your hearing is ONE of a kind. This is because nature has designed the shape of your ear to perfectly capture the sounds around you.
ReSound ONE™ introduces a new class* of hearing aid with an additional microphone inside your ear. This allows the unique shape of your ear to collect sounds, just as nature intended. Add convenient direct audio streaming, access to remote hearing care services, and industry-leading battery life, ReSound ONE™ truly keeps you connected to people and technology you need to become ONE with your world.
The Most Complete And Individualized Sound Experience
ReSound ONE™ delivers easier-to-follow conversations with All Access Directionality. With access to all the sounds around you, you are in charge of which sounds you want to focus on - not your hearing aids. In addition, ReSound ONE™ introduces Ultra Focus. Like an individual beam of sound, it lets you decide when to minimizing background noise to focus on the speech directly in front of you – even in the toughest environments.
Designed For Ultimate Comfort, Discretion And Performance
Built for ultimate comfort and adaptability, ReSound ONE™ has just one touchpoint on the back of the ear and sits lower for greater discretion. Available in three models, ReSound ONE™ comes in a variety of colors to blend with hair and skin tones, so you can wear ReSound ONETM with confidence.
Industry-Leading Rechargeability
ReSound ONE™ offers the best rechargeable battery life in the industry with up to 30 hours** of battery life or 25 hours with the ability to stream as much as you want.
ReSound ONE™ offers two different charger options that serve as stylish, portable and protective cases. Choose the Premium Charger with an onboard battery for up to three days of quick charging on the go, without the need for a power outlet. Or the ReSound ONETM Standard Charger gives you all the at-home charging capabilities you need in a small, elegant design.
*Microphone in ear and two standard directional microphones, directionality features, wireless audio streaming.
**Expected battery life dependent on active features, the use of wireless accessories, hearing loss, device age and sound environment.
ReSound LiNX Quattro hearing aids automatically adjust to your environment, but you can personalize the details of your hearing experience even further with an exceptional streaming experience from almost any audio source. With increased power, lag time has been eliminated when streaming directly into the hearing aids or through a ReSound wireless accessory.
With a lithium-ion battery that is small, discreet and completely sealed for protection, ReSound LiNX Quattro is the most advanced rechargeable hearing aid with a long-lasting battery that gives enough power to last more than a full day. Battery status is easy to monitor with the ReSound Smart 3D app and the LED lights on the charging case that indicate the power status for both your hearing aids and the charger.
You no longer have to make the choice between a discrete hearing solution and one with the convenience of complete connectivity. With ReSound, you get both - even in the smallest devices.
The new ReSound LiNX Quattro customs line includes the world's first wireless CIC with full, direct streaming. That means these hearing aids stream phone calls and even music from your smartphone, making conversations with your family and friends that much more enjoyable.
Welcome To Great Hearing
Introducing ReSound KeyTM, hearing aids designed to work comfortably and reliably with your own ears for truly great hearing. ReSound Key gives you the confidence and guidance you need to hear and enjoy every day.
Meet the key to true sound clarity
Fully join in conversations with the clear sound quality of ReSound Key. Built on our Organic Hearing philosophy, our technology works to emulate the natural hearing experience as closely as possible.
Our tested and proven technology inside every pair of ReSound Key supports better listening in noise by enabling both your ears to work together. You can focus on important sounds while still monitoring what is happening around you. With ReSound Key, your hearing will feel more natural with less listening effort, making you feel more comfortable wherever life takes you.
Guidance all the way
ReSound Key is specifically developed with your daily needs in mind. The intuitive, easy-to-use ReSound Smart 3DTM app provides convenient adjustments on the go. So you can adjust volume, change sound programs and even find misplaced hearing aids all within the app.
When additional help is needed, ReSound Key also provides you with access to ReSound Assist remote hearing care. With ReSound Assist, you can get updates to your hearing aids sent straight to your smart device as a simple download or we can complete live, video consultations for support, counselling, hearing assessments, and adjustments all from the comfort and safety of your home.
Hear with confidence
Rechargeability has never been easier. Simply place your rechargeable ReSound Key hearing aids in one of our stylish chargers and get more than a full day of power without the worry of changing batteries. The ReSound Key rechargeable solution delivers:
Up to 30 hours of power on a single charge.
A stylish Desktop charger, great for your nightstand or to charge around your home.
The ability to upgrade to a Premium portable charger, ideal for traveling and storage.
Future Proof Technology
You can now stream effortlessly and without any intermediate accessory directly from Android™ devices.* Go about your day with confidence knowing that you will be able to stream the whole day.
*Full streaming compatibility with Android devices requires minimum Android v10 and Bluetooth 5.0 and that functionality has been enabled by the phone manufacturer and service carrier. Accordingly, the compatibility information provided should be used for reference only. Although GN strives to achieve seamless device compatibilities, GN cannot guarantee full compatibility with all Android devices
ReSound Wireless Accessories
ReSound Remote Control
With the new ReSound Remote Control, you don't have to worry about dealing with small buttons.
The Resound Remote control offers large, easy to use buttons for your convenience. We invite you to expand your hearing experience with ReSound's newest wireless accessory.
ReSound's easy-to-use wireless hearing aid accessories deliver clear and secure audio directly to any ReSound wireless hearing instrument. And they do it discreetly, without devices to wear around your neck. This is thanks to 2.4 GHz wireless technology, a robust and reliable standard, which gives you strong, clear and stable connections.
ReSound Micro Mic
Extremely easy to use, the ReSound Micro Mic pairs to ReSound hearing aids in seconds. Clip it on the person you want to talk to and enjoy the conversation, even in background noise – and you can still hear them even if they are more than 80 feet away.
ReSound Multi Mic
Works like the ReSound Micro Mic, with the same hearing range of more than 80 feet, but also doubles as a table microphone, so you can hear everyone sitting around it. It's compatible with loop and FM systems*, and even has a line-in so you can stream virtually any sound directly to your hearing aids.
ReSound Phone Clip+
The ReSound Phone Clip+ streams crystal clear phone calls and audio straight to your hearing aids. So you – and the person you're talking to – can enjoy comfortable conversations, even in noisy places. When not on the phone, the Phone Clip+ works as a hearing aid remote control. Or use the ReSound Control™ app for cutting-edge control from your smartphone.
ReSound Remote Control 2
With the ReSound Remote Control 2 you'll never lose track of your hearing aid settings. You can change programs and adjust the volume on each of your hearing aids. And the easy-to-see display clearly shows settings.
ReSound TV Streamer 2
The ReSound TV Streamer sends clear stereo sound from your TV, stereo or computer directly and wirelessly to your hearing aids. You don't have to wear anything extra. No cables or wires are needed.
---
*FM receiver required